NTNU Forskningskonsert med Anna Xambó
A session on participatory mobile music and live coding using crowdsourced sounds. NTNU Research Concert. Dokkhuset. Trondheim, Norway. November 24, 2018.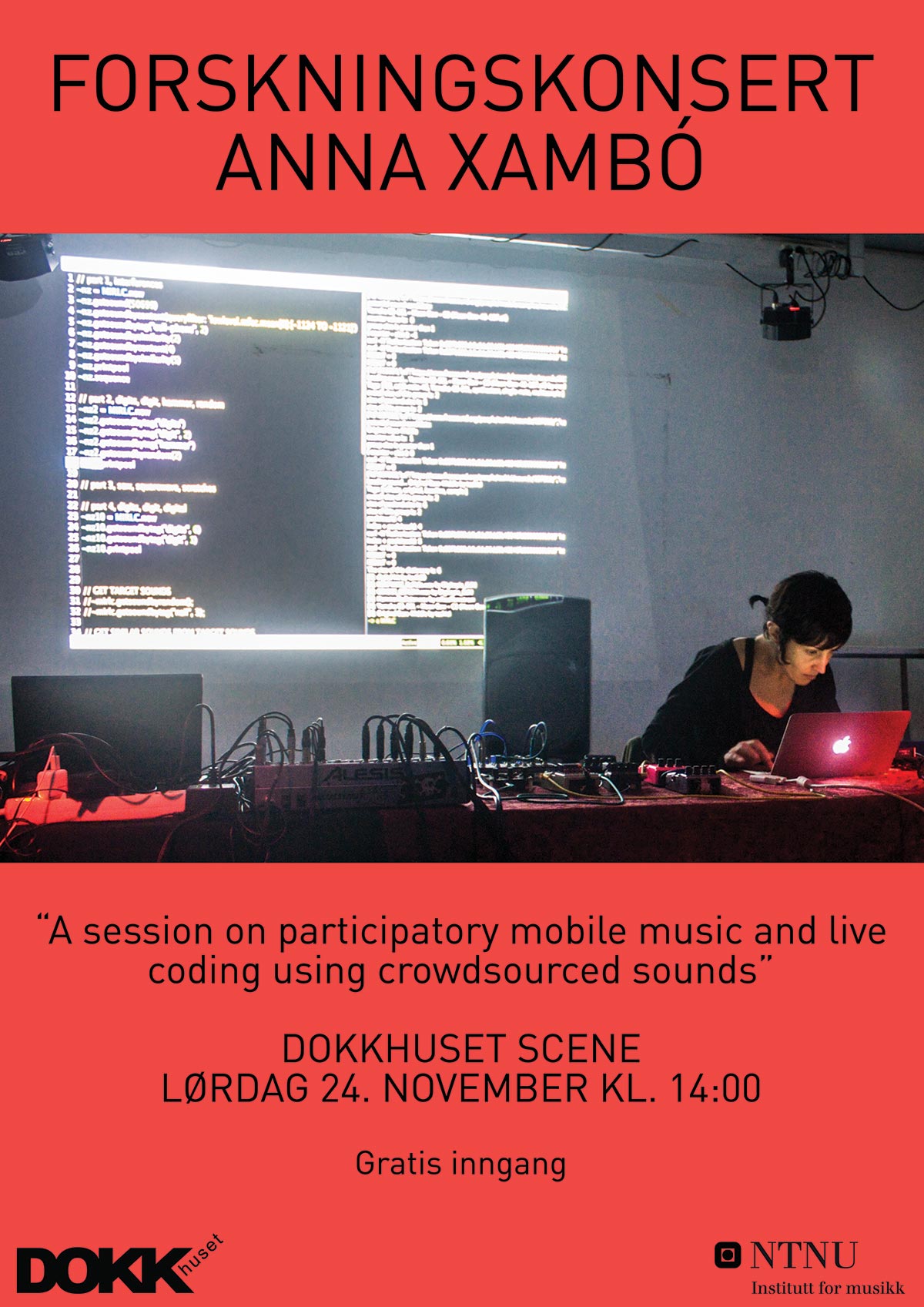 Program notes
This session will include two musical pieces in the format of a research concert (forskningskonsert):
1) 'Imaginary Trondheim', which is a participatory mobile piece that invites the audience to create a collaborative soundscape based on audio streams from the area of Trondheim in Norway by using their mobile devices, and
2) 'Live coding with MIRLC and a drum machine', which is a live coding session that combines a self- built live coding engine for repurposing crowdsourced sounds with an old-school drum machine.
Audio / Video
Video
Audio
Credits
Higher Executive Officer
Audio recording
Vegard Fjellestad (Dokkhuset/NTNU)
Rytis Kančys (Dokkhuset/NTNU)
Video recording & video editing
Ola Lorentzen Rød
Martin Kristoffersen
Sound Credit list
SOUND CREDIT LIST IMAGINARY TRONDHEIM
Mobile app
freesound.org/people/soloan/sounds/161350/ freesound.org/people/ra_gun/sounds/79276/ freesound.org/people/nfsgit/sounds/121959/ freesound.org/people/martats/sounds/135865/ freesound.org/people/Engangskame…ten/sounds/179028/ freesound.org/people/Ubehag/sounds/235351/ freesound.org/people/AugustSandberg/sounds/252684/ freesound.org/people/petrsvar/sounds/254085/ freesound.org/people/petrsvar/sounds/254085/ freesound.org/people/Ubehag/sounds/262278/ freesound.org/people/artgeezer/sounds/368147/
Web App (WACastMix)
stream.p4.no/nrj_mp3_mq stream.p4.no/p4_mp3_mq stream.p4.no/p7_mp3_mq stream.p4.no/p8_mp3_mq stream.p4.no/p9_mp3_mq stream.p4.no/p10_mp3_mq freesound.org/people/Nickleus/sounds/19887/ freesound.org/people/nfsgit/sounds/121959/ freesound.org/people/klangstrand/sounds/179123/ freesound.org/people/klangstrand/sounds/179213/ freesound.org/people/Ubehag/sounds/235351/ freesound.org/people/Owl/sounds/387919/
SOUND CREDIT LIST LIVE CODING
freesound.org/people/Speedenza/sounds/241334/ freesound.org/people/strangy/sounds/207566/ freesound.org/people/Vortichez/sounds/432469/ freesound.org/people/Vortichez/sounds/432619/ freesound.org/people/Metzik/sounds/392108/ freesound.org/people/alanmckinney/sounds/145230/ freesound.org/people/Oscar%20de%…ila/sounds/139964/ freesound.org/people/dersuperanton/sounds/433648/ freesound.org/people/rettalo/sounds/52320/ freesound.org/people/d78productions/sounds/367982/ freesound.org/people/14FPanskaBu…kas/sounds/418536/ freesound.org/people/mallement/sounds/160598/ freesound.org/people/klankbeeld/sounds/267245/ freesound.org/people/kev_durr/sounds/324143/ freesound.org/people/Exploracion…oro/sounds/316939/ freesound.org/people/marco2unisato/sounds/401039/ freesound.org/people/Carlvus/sounds/182611/ freesound.org/people/kijjaz/sounds/372556/ freesound.org/people/kijjaz/sounds/372557/ freesound.org/people/kijjaz/sounds/372560/ freesound.org/people/vinjatovix/sounds/240539/ freesound.org/people/georra43/sounds/446378/ freesound.org/people/Vanias/sounds/155531/ freesound.org/people/Redder01/sounds/325866/ freesound.org/people/JohnsonBran…ing/sounds/173940/ freesound.org/people/Gauraa/sounds/175552/ freesound.org/people/180118/sounds/442899/ freesound.org/people/LittleLuigi/sounds/364775/ freesound.org/people/LuannWepener/sounds/326122/ freesound.org/people/LittleLuigi/sounds/364785/ freesound.org/people/Claire.H/sounds/182348/ freesound.org/people/Claire.H/sounds/182347/ freesound.org/people/Claire.H/sounds/182349/ freesound.org/people/plasterbrain/sounds/402450/ freesound.org/people/prettynice68/sounds/111058/ freesound.org/people/NoiseCollector/sounds/75819/ freesound.org/people/jorickhoofd/sounds/160117/ freesound.org/people/jorickhoofd/sounds/160118/ freesound.org/people/jorickhoofd/sounds/160115/ freesound.org/people/melarancida/sounds/47384/ freesound.org/people/melarancida/sounds/47386/ freesound.org/people/melarancida/sounds/47388/ freesound.org/people/ginacollecchia/sounds/208659/ freesound.org/people/nmscher/sounds/86225/ freesound.org/people/adamlhumphreys/sounds/115385/ freesound.org/people/StephenSald…nha/sounds/158759/ freesound.org/people/Owl/sounds/387912/ freesound.org/people/borje/sounds/26472/ freesound.org/people/Owl/sounds/387911/ freesound.org/people/il112/sounds/196153/ freesound.org/people/kwahmah_02/sounds/320807/ freesound.org/people/Joljo/sounds/274721/ freesound.org/people/Thalamus_Lab/sounds/180000/ freesound.org/people/Robinhood76/sounds/59126/ freesound.org/people/il112/sounds/196153/