Becoming a Woman Academic in Music and Audio Technology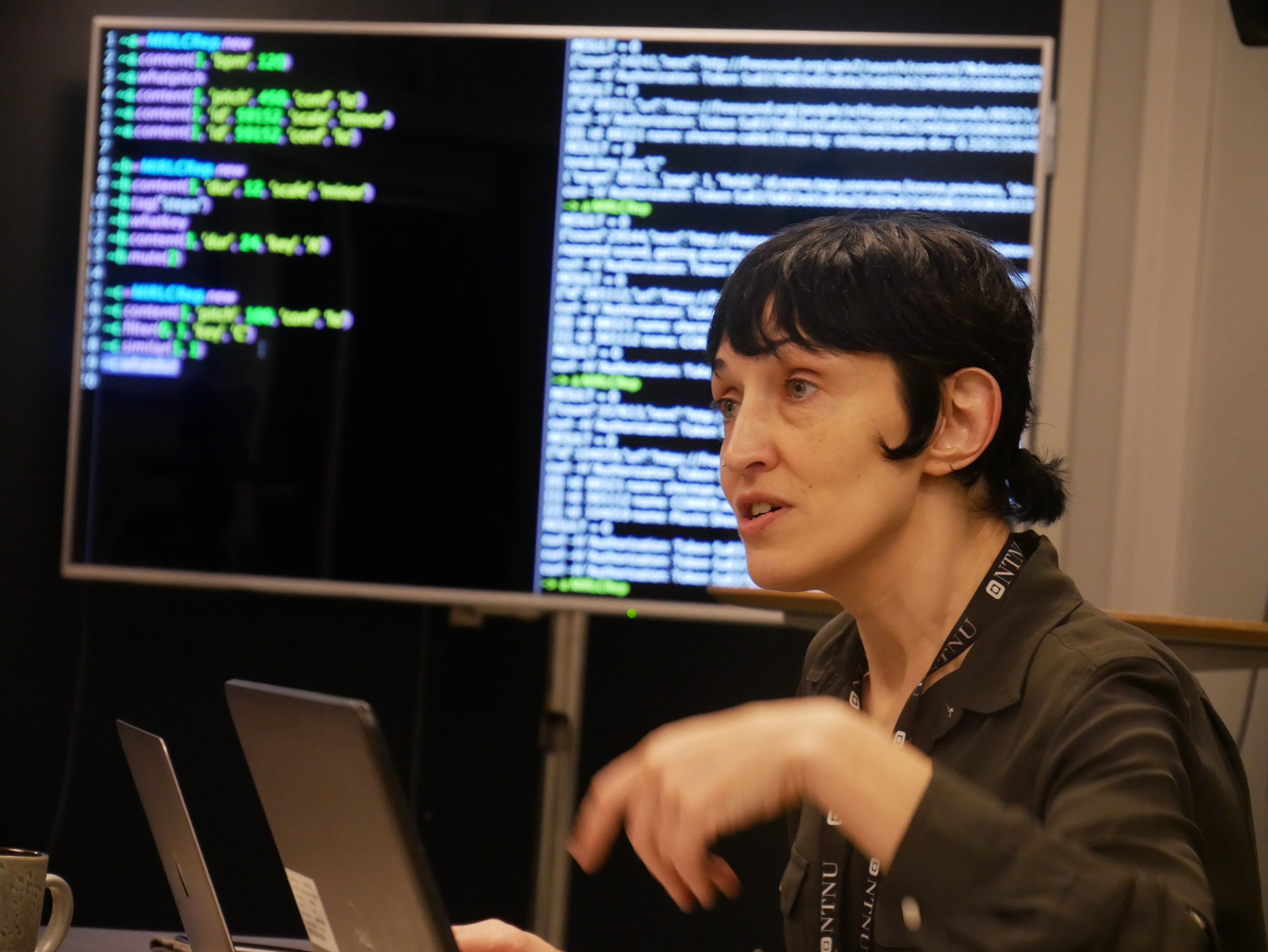 To all the women interested in pursuing academic careers in music & audio technologies
This blog post summarizes my last 17 months of work (August 2018 - December 2019), when I was appointed as an associate professor in music technology at the music technology group (mustekk), Department of Music (Institutt for musikk), Norwegian University of Science and Technology (NTNU) in Norway.
After completing my PhD in 2015 at the Open University and two sequential postdoc positions at Georgia Tech and Queen Mary University of London, this was the first time I was offered a permanent position, which was a big achievement! I was also the first woman academic in the group. Then you realize that the nature of this change involves becoming a privileged person with responsibilities. That you can be an influential agent of change. And that you need to constantly demonstrate that you deserve the position.
With all of this in mind, I accepted to move to a new country, Norway, and a new city, Trondheim. Although since 2010, when I moved to the UK to start my PhD, I have been working and living in different cities in the UK and the USA, moving to Trondheim meant to continue sacrificing everything else, including my personal life.
The environment at NTNU, Department of Music and the music technology group has been excellent: welcoming, empowering, and like-minded. A good healthy environment has been crucial to develop ideas and being so productive!
Apart from being hired to be a teacher at the new master Music, Communication and Technology (MCT), which is a master's programme in collaboration between the NTNU in Trondheim, Norway, and the University of Oslo (UiO) in Oslo, Norway, I started my position with two additional projects in mind: starting the organization Women Nordic Music Technology (WoNoMute) and hosting the Web Audio Conference 2019 (WAC 2019).
WoNoMute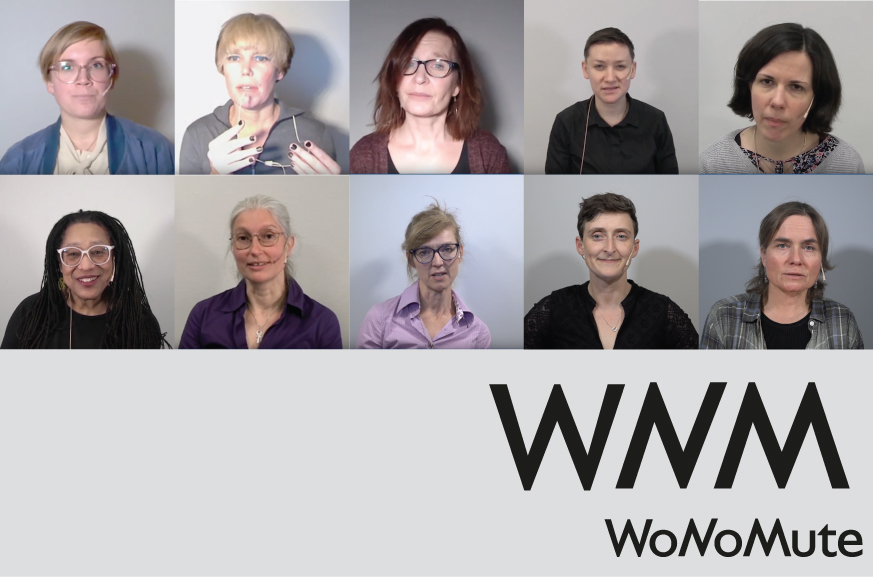 Thanks to the financial support of the Faculty, I was awarded with a 3-year startup grant (startpakke) of 250,000 NOK, given to women in permanent academic positions in a scientific field with underrepresentation of women. In the proposal it was budgeted that 100,000 NOK (40% of the grant) would be used to start the initiative Women Nordic Music Technology (WoNoMute) to promote and connect the work of women in music technology at local, national and international levels. You can read all our achievements in this blog post:
1st Anniversary of WoNoMute and Future Directions. As this blog post outlines, we have successfully completed the first phase of WoNoMute with the creation of an online archive of seminars and interviews, and the creation of a network that has expanded the boundaries of Norway. This is however a long-term investment, and we need to find external funding to keep maintaining these services. We also need to put an effort to have more women at all academic and professional levels in music technology to show that a healthy and complete ecosystem is possible.
I can only say that I am proud to be part of WoNoMute and to see the direction that it is taking.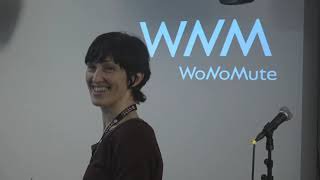 WAC 2019
Organizing a conference is a huge enterprise. Even though I have been involved in other conferences as a music/artworks co-chair (WAC 2016) and papers co-chair (NIME 2019), becoming a general co-chair for WAC 2019 has been a new unknown dimension. I can only say that constituting a diverse and trustful team is crucial for organizing a successful conference.
We have worked with a dream team, very hard, and the conference was, we think, very successful! The hardest parts have been to:
organize a conference upon arrival in a new institution and country without knowing the established protocols and workflows (and thanks to my NTNU colleagues we have successfully overcome this issue), and
raise all the funds by ourselves due to a financial crisis in our department, achieving, thanks to the help of the committee members and advisors, a total of 7 sponsors: NTNU Department of Electronic Systems, SonoSuite, ROLI, Mozilla, Ableton, Native Instruments and Spotify. We raised a total of 120,000 NOK, out of which 40,000 NOK went for diversity grants (33% of the total external funding). This is probably, out of five years, the year that WAC has achieved more sponsors.
The most rewarding parts have been working in team and realizing a dream of creating a sustainable, environmentally-friendly, inclusive, and diverse conference, hosting +100 conference attendees and receiving fantastic positive feedback. You can read our main contributions in the forewords of the Proceedings and the new website of the Proceedings of WAC: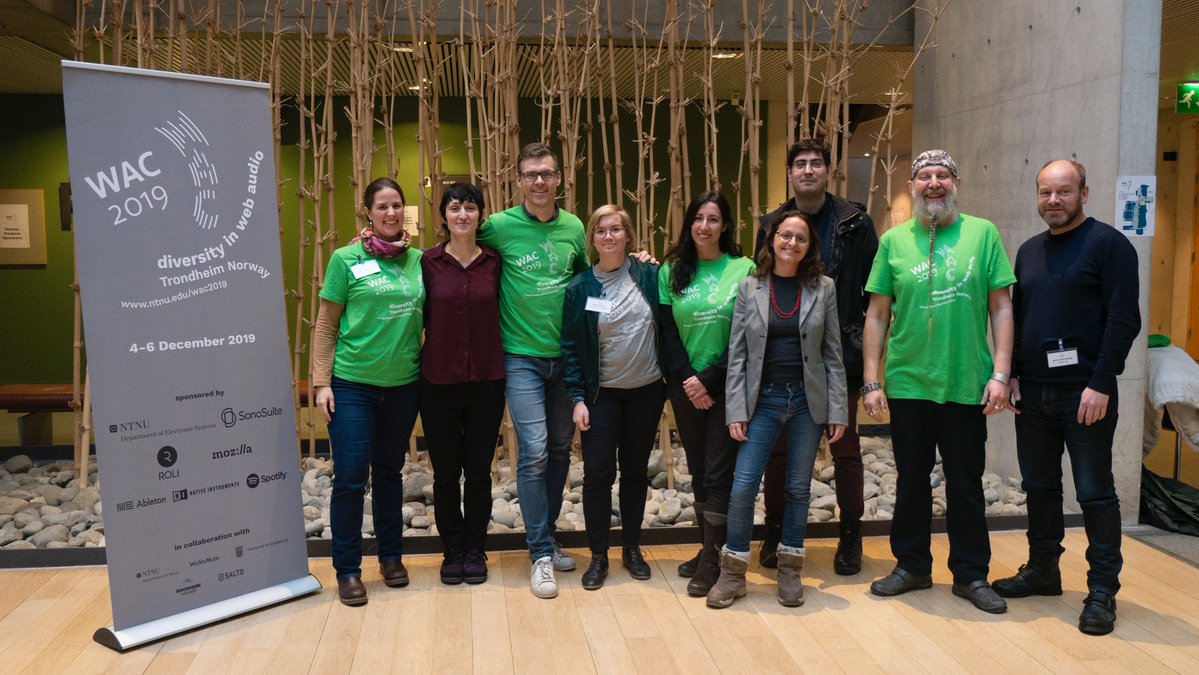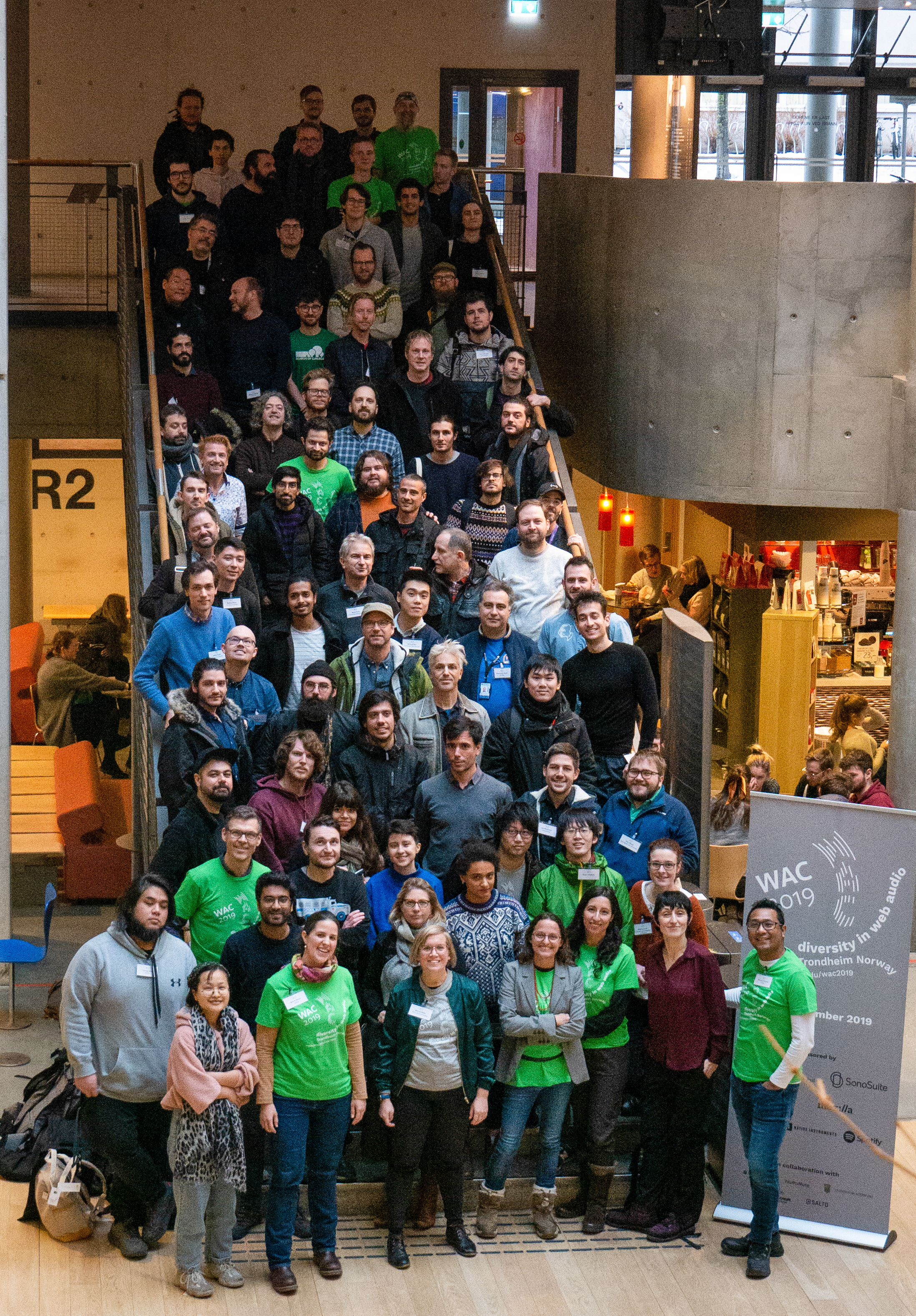 Overall, the conference has been a big success, but it is also an exhausting activity that can take all of your time and energy, so it is better to keep this activity as regular but from time to time. You can find all the people involved in making this conference happen here:
Teaching, Research, Practice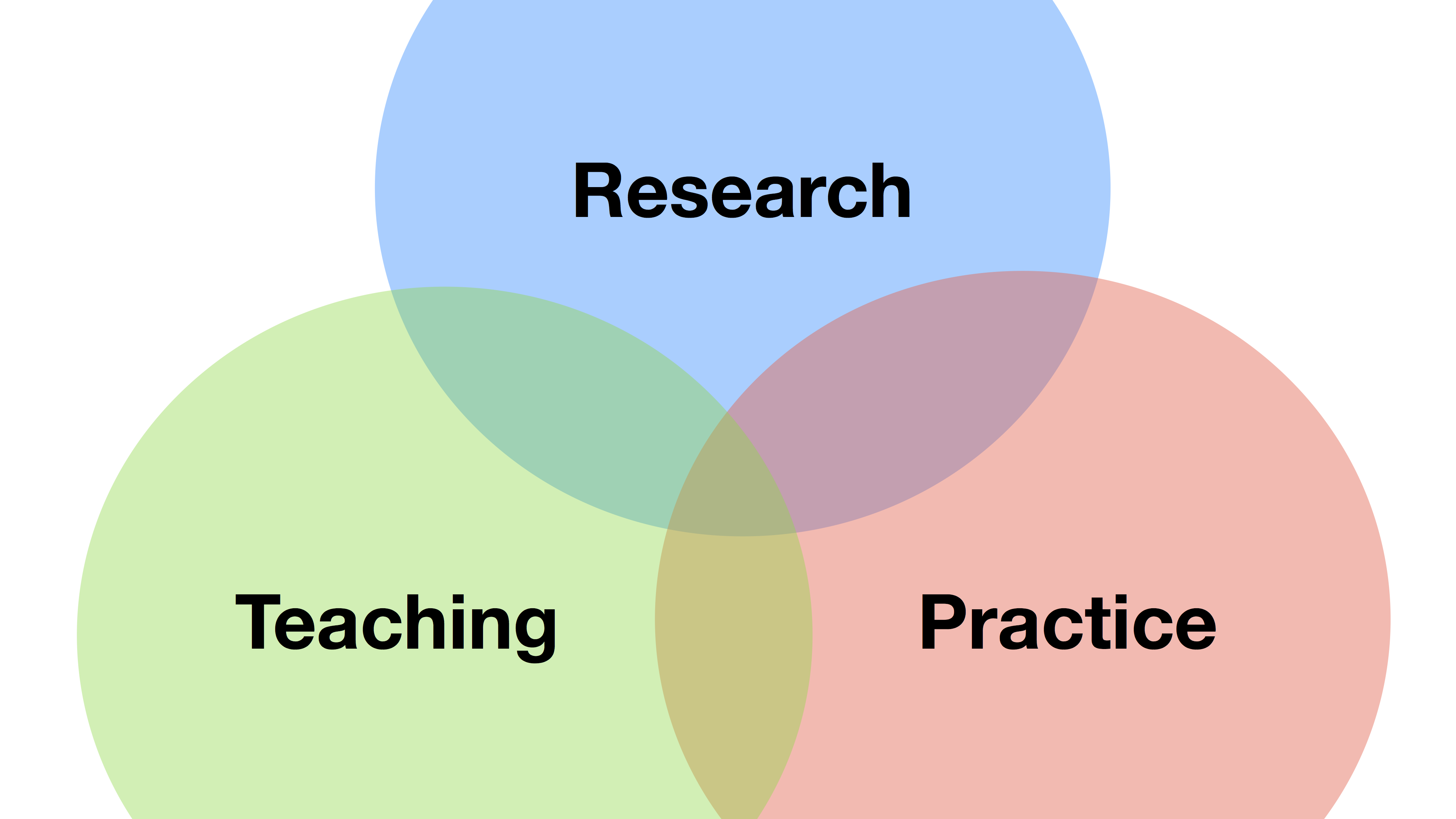 Teaching, research, and practice are three areas that are difficult to divide, as they have been informing each other throughout these 17 months.
Teaching & Coordinating
Due to internal practicalities, after 5 months of starting at MCT, I was appointed MCT Programme Study Leader and MCT Programme Council Leader, creating a related website:
During these 17 months, I have been teaching and coordinating the following modules and courses:
MCT4000 - Music, Communication and Technology (Winter 2019). Role: Coordinator & Teacher.
MCT4000 - Module: Human Computer Interaction 2nd Edition (Winter 2019). Role: Teacher. Slides.
MCT4000 - Module: Physical Computing Workshop 2nd Edition (Winter 2019). Role: Teacher. Slides & Code.
MCT4046 Sonification and Sound Design (Spring 2019). Role: Coordinator & Curator. Video playlist.
MCT4048 Audio Programming (Spring 2019). Role: Teacher. Slides & Code.
MCT4000 - Module: Human Computer Interaction (Winter 2018). Role: Teacher. Slides.
MCT4000: Module Physical Computing Workshop (Winter 2018). Role: Teacher. Slides & Code.
In summer, I was invited by Prof. Angela Brennecke to give a full workshop at the Film University Babelsberg KONRAD WOLF and by Alexander Refsum Jensenius to be part of a workshop at NIME on open research:
Xambó, A. (June 20–21, 2019). "Creative Audio Programming for the Web". Filmuniversität Babelsberg Konrad Wolf, Potsdam, Germany. Organized by MA Creative Technologies (Module 5 Audiovisual Application Design).
Jensenius, A.R., McPherson, A., Xambó, A., Overholt, D., Pellerin, G., Bukvic, I.I., Fiebrink, R., Schramm, R. (June 3, 2019). "Open Research Strategies and Tools in the NIME Community". NIME '19. Centro cultural, UFRGS, Porto Alegre, Brazil.
I have been also appraisal committee chair for Hilmar Thordarson (NTNU, Norwegian Programme for Artistic PhD Research) and external MSc examiner of Torgrim Rudland Næss (University of Oslo).
Research
Although there has been little time for doing new research, given that the MCT programme is related to the e NTNU-funded project Student Active Learning in a Two Campuses Organization (SALTO) project, I tried to do research from my teaching. The results are two conference papers:
Xambó, A., Støckert, R., Jensenius, A.R. and Saue, S. (2019) "Facilitating Team-Based Programming Learning with Web Audio". In Proceedings of the Web Audio Conference 2019 (WAC '19). Trondheim, Norway.
Xambó, A., Saue, S., Jensenius, A.R., Støckert, R. and Brandtsegg, Ø. (2019) "NIME Prototyping in Teams: A Participatory Approach to Teaching Physical Computing". In Proceedings of the New Interfaces for Musical Expression (NIME '19). Porto Alegre, Brazil. pp. 216–221.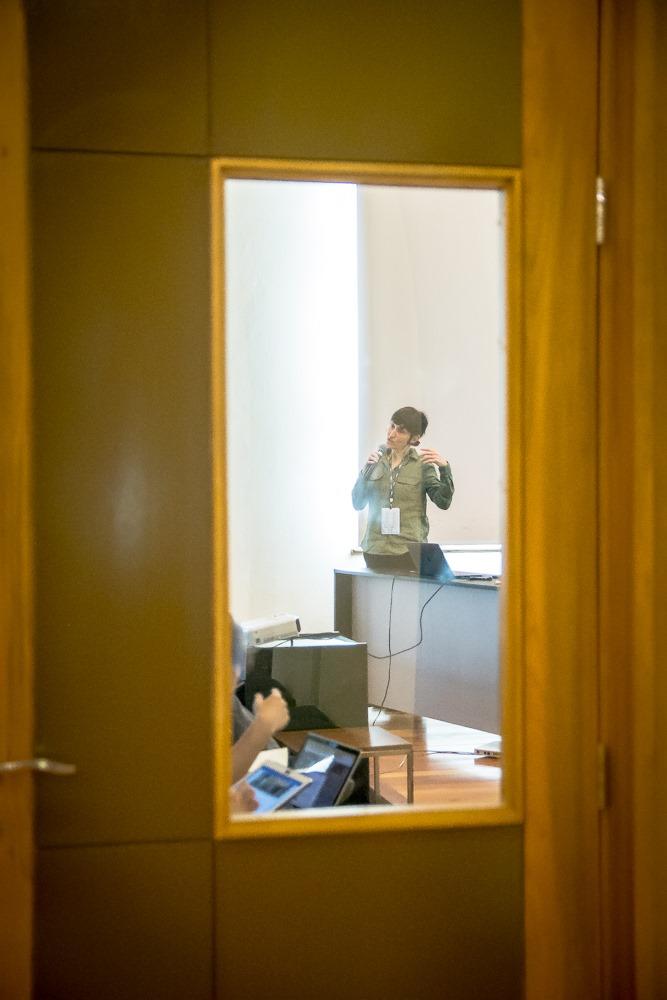 We won one of the best WAC 2019 papers awards, which means that we will have the opportunity to publish a more developed version at the Journal of the Audio Engineering Society.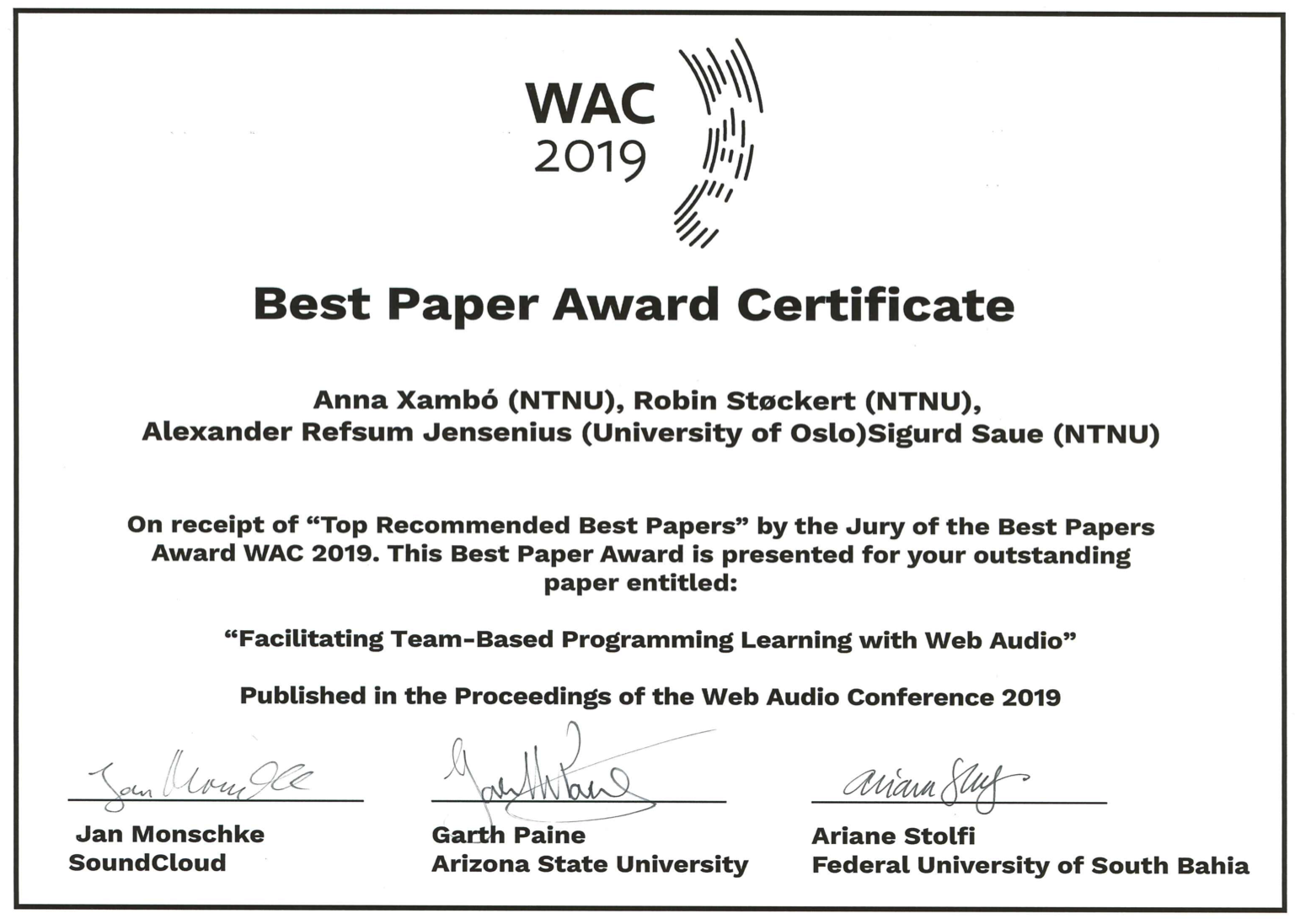 In addition, this year has been fruitful in seeing two important publications taking shape:
Xambó, A., Lerch, A. and Freeman, J. (2019) "Music Information Retrieval in Live Coding: A Theoretical Framework" (Open Access) [PUBLISHED] [AAM]. Computer Music Journal, 42(4), Winter 2018, pp. 9-25.
Xambó, A., Font, F., Fazekas, G. and Barthet, M. (2019) "Leveraging Online Audio Commons Content For Media Production" [PUBLISHED] [PREPRINT] [Companion Website]. In Michael Filimowicz (ed.) Foundations in Sound Design for Linear Media: An Interdisciplinary Approach, Routledge. pp. 248-282. ISBN 978-1-138-09396-6.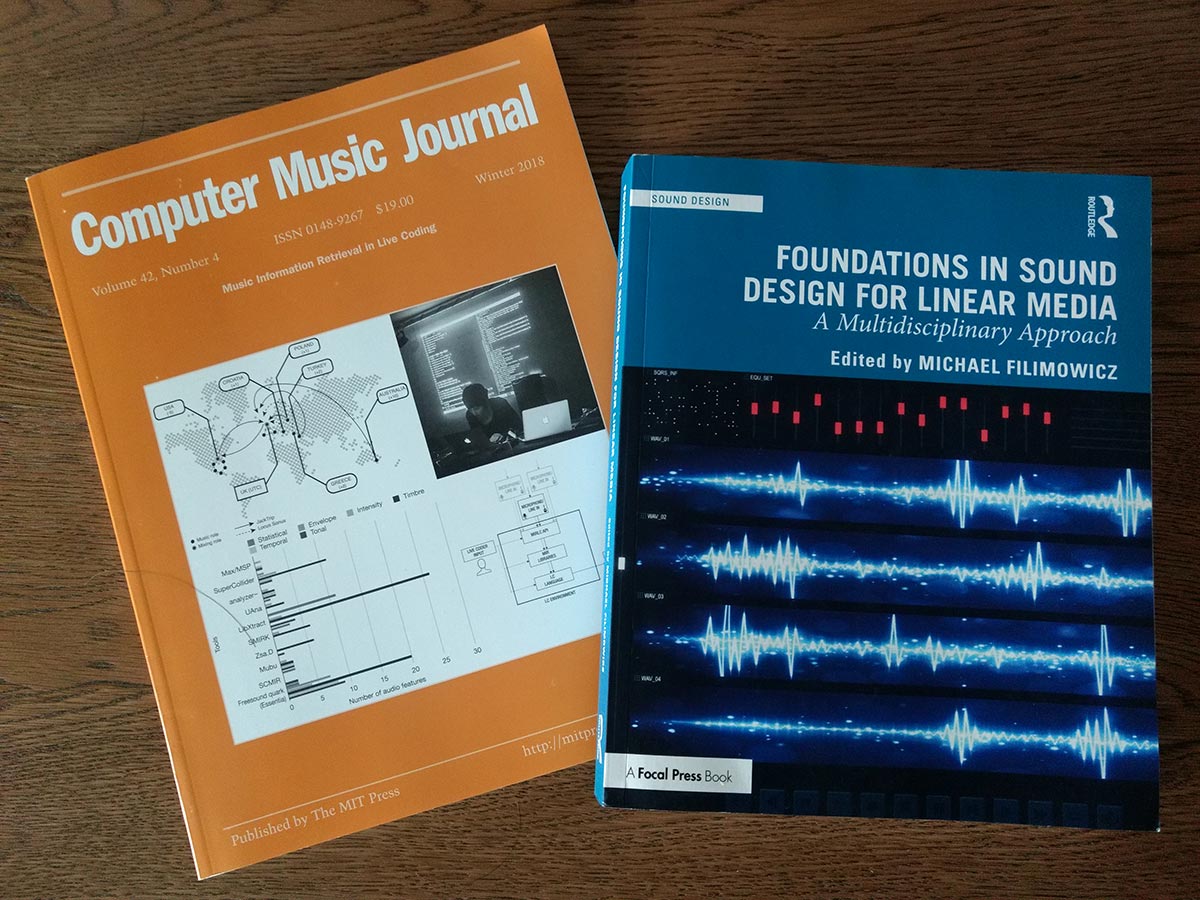 Finally, I have been involved as a co-editor of two relevant Proceedings to my field, which I am very excited about to have been contributing to:
Practice
If there has been little time to conduct new research, I had even less time to work on my performance practice. I have still been fortunate about being able to perform in fantastic venues occasionally. As shown below, NTNU documented fully one of my performances as a research concert (forskningskonsert), which has been of the greatest value. Thanks to the professional documentation team for the opportunity and resource.
Brandtsegg, O., Xambó, A., Engum, T., Bergsland, A., Waadeland, C.H. (December 4, 2019). "Trondheim EMP Repository processing". Web Audio Conference 2019, Trondheim, Norway.
Xambó, A. "Live coding with crowdsourced sounds & a drum machine". International Conference on Live Coding 2019. Closing Concert at the Public School of Music and Dance María Dolores Pradera, Madrid, Spain. January 18, 2019.
Xambó, A. "A session on participatory mobile music and live coding using crowdsourced sounds". NTNU Research Concert. Dokkhuset. Trondheim, Norway. November 24, 2018.
Brown, N., Chudy, M., Dobson, L., Hoel, A.M., Ikkache, L., Pase, T., Schroeder, F., Stol , A., Wilkie, S., Xambó, A. (November 22, 2018). "Transmusicking II". Sonic Arts Research Center, Queen's University Belfast. Belfast, Northern Ireland.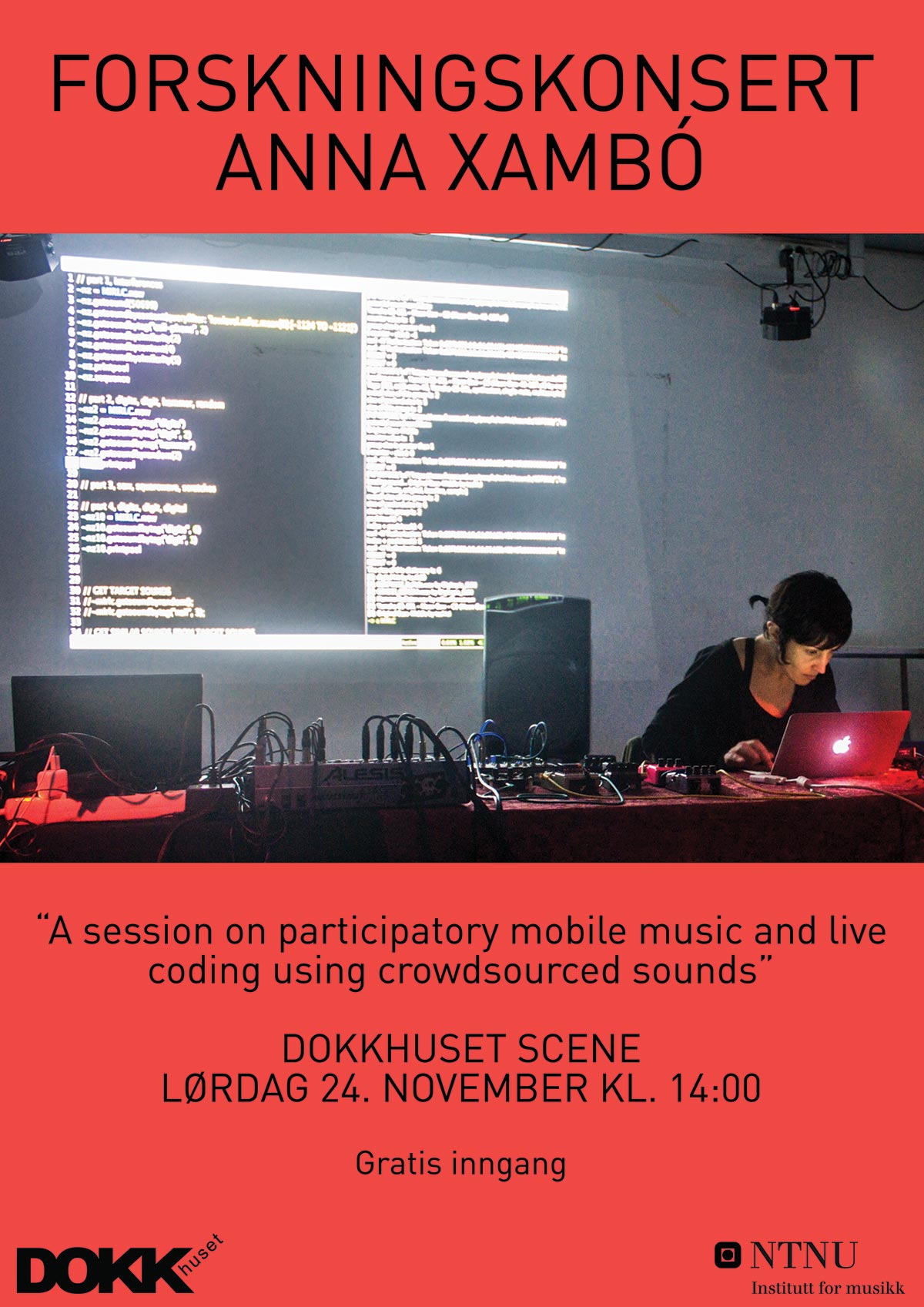 Essensvideo av forskningskonsert med Anna Xambo from NTNU Institutt for musikk on Vimeo.
Another new unique experience has been to perform with my mustekk fellows at the Web Audio Conference 2019. It cannot be described in words the possibility of communicating musically with your work colleagues, and it felt performing with highest-profile musicians, thank you for the opportunity!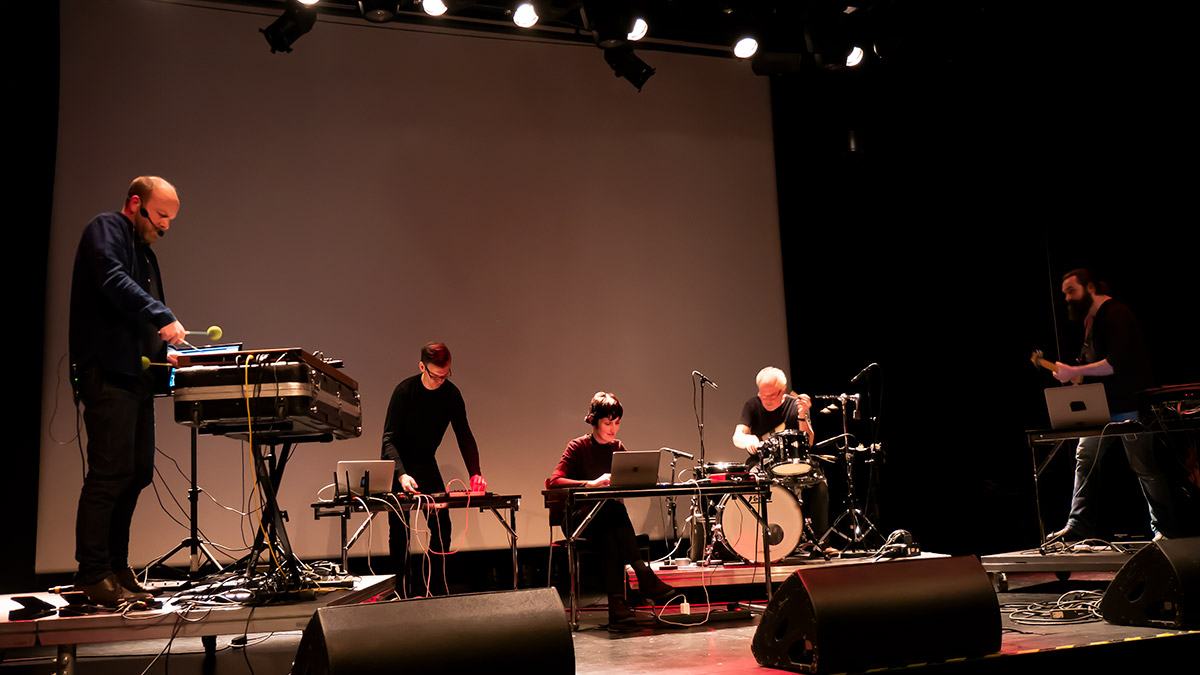 Dissemination
This year I visited NOTAM for the first time, invited by Gyrid Nordal Kaldestad and Hilde Marie Holsen, to give a talk about my research and practice.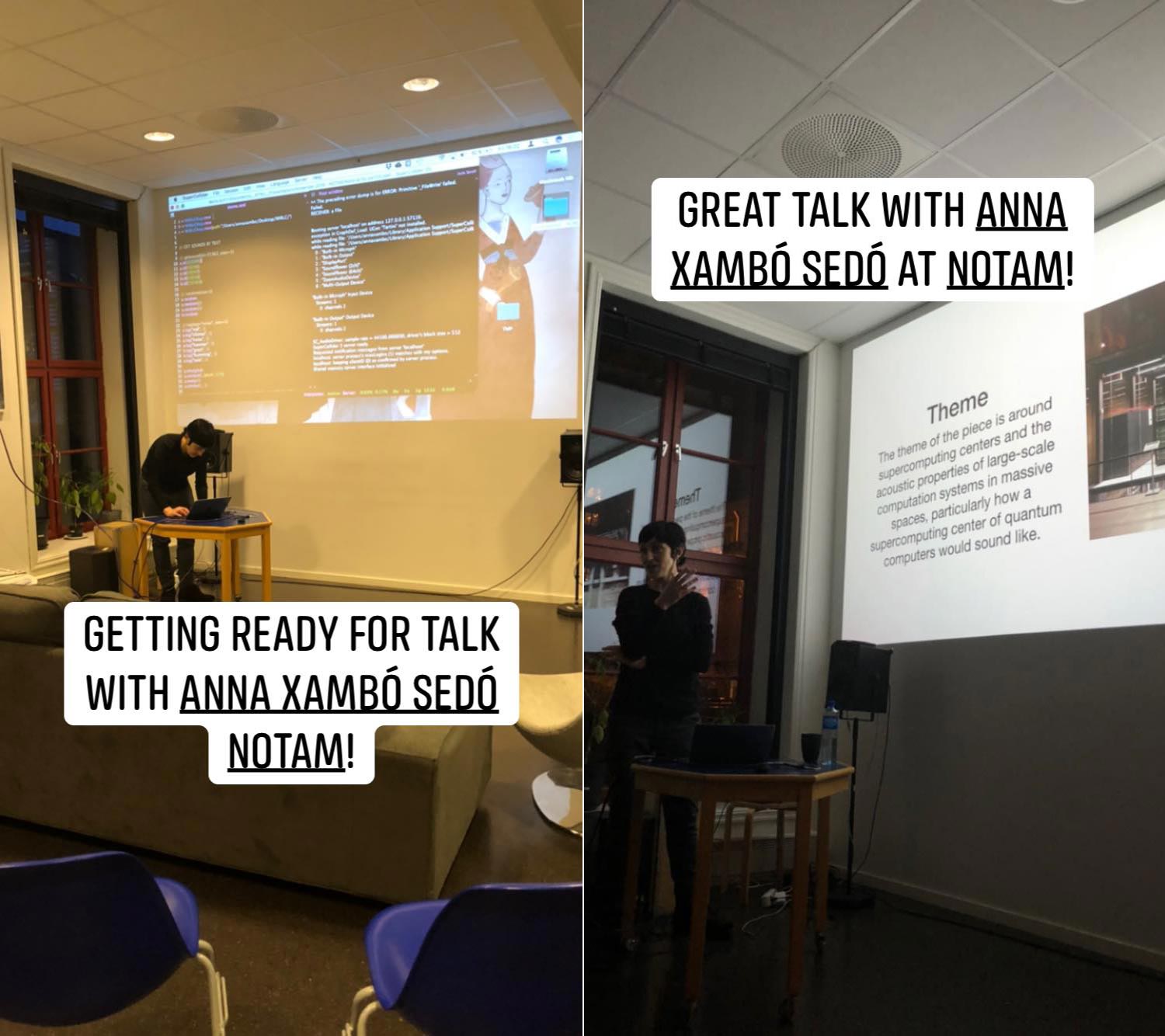 We have been also invited internally and externally to talk about MCT and the SALTO project. We have involved students to share their experiences during the presentations, which has been important to showcase that the master is one of a different kind:
Oral Presenter together with Jawad, K. and Shrestha, S. (June 20, 2019). "International joint Master's programme in Music, Communication & Technology: A master for technological humanists". MA Creative Technologies. Filmuniversität Babelsberg Konrad Wolf, Potsdam, Germany.
Oral Presenter together with Jensenius, A., Jawad, K. and Aandahl, E. (May 23, 2019). "International joint Master's programme in Music, Communication & Technology". Institutt seminar for sosiologi og statsvitenskap. NTNU Department of Sociology and Political Science, Rockheim, Trondheim, Norway.
Finally, during the Fall 2018, I participated as a panelist at:
(November 21, 2018). Panel: Women in Music Technology around the World with Nela Brown (FLO), Magdalena Chudy (FLO), Liz Dobson (YSWN), Ada Mathea Hoel (WoNoMute), Léa Ikkache (WiMT), Tuna Pase (FLO), Franziska Schroeder (FLO), Ariane Stol , (Sonora) Sonia Wilkie (FLO) and Anna Xambó (WoNoMute, WiMT). Sonic Arts Research Center, een's University Belfast. Belfast, Northern Ireland.
(November 15, 2018). Panel: Future of the Music Industries with Joe Lyske (chair, MXX), Jesper Skibsby (panelist, WARM), Nick Breen (panelist, Reed Smith) and Anna Xambó (panelist, NTNU). Resonate Music Conference 2018. Barras Art and Design (BAAD), Glasgow, Scotland, UK.
(October 26, 2018). Panel Session 3: Equality, Diversity, Gender with omas Hilder (chair), Jill Diana Halstead Hjørnevik (panelist), Sunniva Skjøstad Hovde (panelist), Vivian Ane e Lagesen (panelist), and Anna Xambó (panelist). Knowing Music – Musical Knowing: Cross disciplinary dialogue on epistemologies. International Music Research School 2018, NTNU. Dokkhuset, Trondheim, Norway.
Final Remarks
If I started again, I would do exactly the same. However, this is unsustainable. Personal life is important and we should take care of it too. I am moving to the UK and will start a new life there. I don't know whether I will be back to Norway or not, but I know that with 2020 I am starting a new phase, and I am very excited about it. I am taking a new similar permanent position at the De Montfort University as a senior lecturer in music and audio technology. Although the nature of this position keeps being a privileged person with responsibilities, and that you can be an influential agent of change, this needs to be done carefully and without forgetting who you are, and your priorities in life. It is also unfair to feel guilty if you are not constantly demonstrating that you deserve the position because you are the first woman in the department, and the institution expects that you should be representing all the women in the world in all types of activities related to recruitment, academic dissemination, teaching, examination, and so on. We simply need more women in similar positions, and this is what we should claim for.
To all the women interested in pursuing academic careers: academia is hard, and it is becoming harder and harder, but the focus should be on your own priorities, and perform strategically and efficiently so every single action has its deserved impact. Learning to say no is hard but crucial. And supporting each others' women in your field is fundamental because we are a minority and divisions will never work.
My last blog post in my personal website dates back one year ago! This blog post seems to be a wrap-up of all I could not write during this past year, and really hope to have more time to reflect here from now on. Thank you for your time reading it, and have a great winter break.
God Jul! Merry Christmas! Feliç Nadal! Feliz Navidad!
Acknowledgements
I thank all my colleagues at NTNU and UiO (my Norwegian family) who have helped me during my stay in Norway. Special thanks to (in alphabetical order):
Academics, Teachers, and Practitioners: Tone Åse, Andreas Bergsland, Oeyvind Brandtsegg, Trond Engum, Stefano Fasciani, Daniel Formo, Øystein Kjørstad Fjeldbo, Alexander Refsum Jensenius, Hilde Marie Holsen, Mathieu Lacroix, Sara Martin, Gyrid Nordal Kaldestad, Kristian Nymoen, Sigurd Saue, Robin Støckert, Jan Tro, Anders Tveit, Carl Haakon Waadeland, Bernt Isak Wærstad.
All the MCT Students 2018-2020 and 2019-2021
WoNoMute: Eigil Aandahl, Elias Andersen, Tone Åse, Natasha Barrett, Ane Bjerkan, Angela Brennecke, Sofia Dahl, Liz Dobson, Tami Gadir, Sepehr Haghighi, Ulrik Antoniussen Halmøy, Ada Mathea Hoel, Karolina Jawad, Tejaswinee Kelkar, Mari Lesteberg, Oscar Martinez Castells, Robin Mientjes, Miranda Moen, Alexandra Murray-Leslie, Monica Ruud, Shreejay Shrestha, Jarle Folkeson Steinhovden, Jørgen Varpe, Espen Wik, Sølvi Ystad, Pamela Z.
Administration: Inna Aalmo, Åshild Berg-Tesdal, Hanne Formo, Rune Åge Frantzen, Cecilie Heimdal, Ellen Karlsen Holmås, Nora Bilalovic Kulset, Jørgen Langdalen, Dagny Margrete Causse, Øystein Marker, Rakel Skaar Kristensen, Mons Thyness, Maj Vester Larsen, Andrea Hegdahl Tiltnes.
Technical support: Synnøve Aune, Tor Breivik, Ellen Filmberg, Vegard Fjellestad, Thomas Henriksen, Thomas Høstad, Rytis Kančys, Martin Kristoffersen, Stian Nilssen, Ola Lorentzen Rød, Robin Støckert, Arild Tørum.