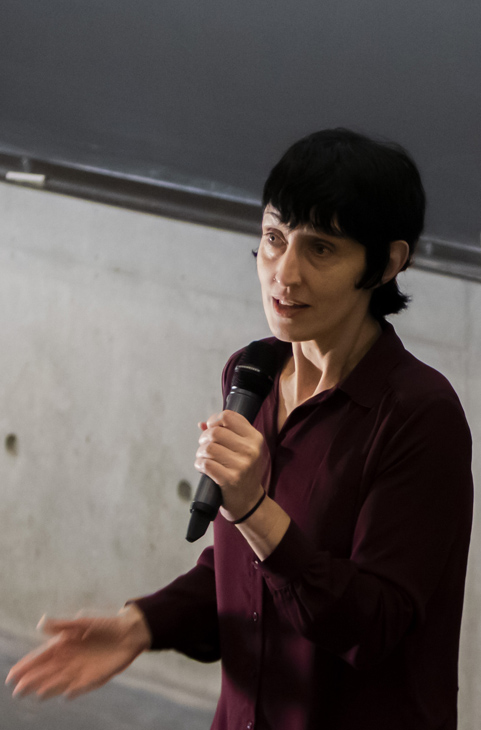 Research Profiles
Books / Edited Books
(3 items)
Book Chapters
(4 items)
Journal Special Issues
(1 item)
Xambó, A., Martín, S. R., Roma, G. (eds.) (2020). JAES Special Issue on Web Audio. [PUBLISHED] Journal of Audio Engineering Society, 68(10). You can read our guest editors' note here.
Journal Articles
(11 items)
Conference Papers
(28 items)
Xambó, A., Goudarzi, V. (2022) "The Mobile Audience as a Digital Musical Persona in Telematic Performance" [PDF] [PubPub]. In Proceedings of the New Interfaces for Musical Expression (NIME '22). Waipapa Taumata Rau, Aotearoa / The University of Auckland, New Zealand. [Video]
Xambó, A., Roma, G., Roig, S., Solaz, E. (2021) "Live Coding with the Cloud and a Virtual Agent". In Proceedings of the New Interfaces for Musical Expression (NIME '21). Shanghai, China. [Video] [Poster]
Xambó, A., Roma, G. (2020) "Performing Audiences: Composition Strategies for Network Music using Mobile Phones". Proceedings of the New Interfaces for Musical Expression (NIME '20). Birmingham, UK. pp. 55-60. [Poster] [iPoster]
Jawad, K., Xambó, A. (2020) "How to Talk of Music Technology: An Interview Analysis Study of Live Interfaces for Music Performance among Expert Women". In Proceedings of the International Conference on Live Interfaces (ICLI 2020). Trondheim, Norway. pp. 41-47. [Video]
Xambó, A., Støckert, R., Jensenius, A.R. and Saue, S. (2019) "Facilitating Team-Based Programming Learning with Web Audio". In Proceedings of the Web Audio Conference 2019 (WAC '19). Trondheim, Norway. pp. 2–7. WAC 2019 Best Paper Award. [Video]
Xambó, A., Saue, S., Jensenius, A.R., Støckert, R. and Brandtsegg, Ø. (2019) "NIME Prototyping in Teams: A Participatory Approach to Teaching Physical Computing". In Proceedings of the New Interfaces for Musical Expression (NIME '19). Porto Alegre, Brazil. pp. 216–221.
Roma, G., Xambó, A., Green, O., Tremblay, P.A. (2018) "A Javascript Library for Flexible Visualization of Audio Descriptors". In Proceedings of the Web Audio Conference (WAC '18). Berlin, Germany. [Video]
Pauwels, J., Xambó, A., Roma, G., Barthet, M. Fazekas, G. (2018) "Exploring Real-time Visualisations to Support Chord Learning with a Large Music Collection". In Proceedings of the Web Audio Conference (WAC '18). Berlin, Germany. [Video]
Xambó, A., Pauwels, J., Roma, G., Barthet, M. Fazekas, G. (2018) "Jam with Jamendo: Querying a Large Music Collection by Chords from a Learner's Perspective". In Proceedings of Audio Mostly 2018: Sound in Immersion and Emotion (AM '18). Wrexham, United Kingdom.
Xambó, A. (2018) "Who Are the Women Authors in NIME? - Improving Gender Balance in NIME Research". In Proceedings of the New Interfaces for Musical Expression (NIME '18). Blacksburg, Virginia, USA. pp. 174-177. Check the online public directory of WiNIME here!
Xambó, A., Roma, G., Lerch, A., Barthet, M., Fakekas, G. (2018) "Live Repurposing of Sounds: MIR Explorations with Personal and Crowdsourced Databases". In Proceedings of the New Interfaces for Musical Expression (NIME '18). Blacksburg, Virginia, USA. pp. 364-369.
Weisling, A., Xambó, A., Olowe, I., Barthet, M. (2018) "Surveying the Compositional and Performance Practices of Audiovisual Practitioners". In Proceedings of the New Interfaces for Musical Expression (NIME '18). Blacksburg, Virginia, USA. pp. 344-345.
Xambó, A., Shah, P., Roma, G., Freeman, J., Magerko, B. (2017) "Turn-taking and Chatting in Collaborative Music Live Coding". In Proceedings of the Audio Mostly 2017 Conference. London. Nominee for Best Paper Award.
Roma, G., Xambó, A., Freeman, J. (2017) "Handwaving: Gesture Recognition for Participatory Mobile Music". In Proceedings of the Audio Mostly 2017 Conference. London.
Roma, G., Xambó, A., Freeman, J. (2017) "Loop-aware Audio Recording for the Web". In Proceedings of the Web Audio Conference 2017. London.
Xambó, A., Drozda, B., Weisling, A., Magerko, B., Huet, M., Gasque, T., Freeman, J. (2017) "Experience and Ownership with a Tangible Computational Music Installation for Informal Learning". In Proceedings of the Tangible, Embedded, and Embodied Interaction Conference (TEI '17). Yokohama, Japan. pp. 351–360.
Moore, R., Edwards, D., Freeman, J., Magerko, B., McKlin, T., Xambó, A. (2016). "EarSketch: An Authentic, STEAM-Based Approach to Computing Education". In Proceedings of the 2016 American Society for Engineering Education Annual Conference & Expo. New Orleans, Louisiana.
Freeman, J., Magerko, B., Edwards, D., Miller, M., Moore, R., Xambó, A. (2016). "Using EarSketch to Broaden Participation in Computing and Music". In Proceedings of the 13th Sound and Music Computing Conference (SMC 2016). Hamburg, Germany. pp. 156–163.
Xambó, A., Freeman, J., Magerko, B., Shah, P. (2016). "Challenges and New Directions for Collaborative Live Coding in the Classroom". In Proceedings of the International Conference on Live Interfaces (ICLI 2016). Brighton, UK. pp. 65-73.
Xambó, A., Roma, G., Laney, R., Dobbyn, C. and Jordà, S. (2014). "SoundXY4: Supporting Tabletop Collaboration and Awareness with Ambisonics Spatialisation". In Proceedings of the International Conference on New Interfaces for Musical Expression 2014 (NIME '14). London. pp. 249–252.
Bogdanov, D., Haro, M., Fuhrmann, F., Xambó, A., Gómez, E. and Herrera, P. (2013). "A Content-based System for Music Recommendation and Visualization of User Preferences Working on Semantic Notions". In IEEE 9th International Workshop on Content-Based Multimedia Indexing (CBMI '13). Madrid. pp. 249–252.
Roma, G.; Xambó, A.; Herrera, P. and Laney, R. (2012). "Factors in Human Recognition of Timbre Lexicons Generated by Data Clustering". In Proceedings of the 9th Sound and Music Computing Conference (SMC 2012). Copenhagen, Denmark. pp. 23–30.
Xambó, A., Laney, R., Dobbyn, C. and Jordà, S. (2011). "Multi-touch Interaction Principles for Collaborative Real-time Music Activities: Towards a Pattern Language". In Proceedings of the International Computer Music Conference (ICMC '11). Huddersffeld, UK. pp. 403–406.
Xambó, A., Laney, R. and Dobbyn, C. (2011). "TOUCHtr4ck: Democratic Collaborative Music". In Proceedings of the Tangible, Embedded, and Embodied Interaction Conference (TEI '11). Funchal, Madeira. pp. 309–312.
Milne, A. J.; Xambó, A.; Laney, R.; Sharp, D. B.; Prechtl, A. and Holland, S. (2011). "Hex Player — A Virtual Musical Controller". In Proceedings of the International Conference on New Interfaces for Musical Expression (NIME '11). Oslo, Norway. pp. 244–247.
Laney, R., Dobbyn, C., Xambó, A., Schirosa, M., Miell, D., Littleton, K. and Dalton, N. (2010). "Issues and Techniques for Collaborative Music Making on Multi-touch Surfaces". In Proceedings of the 7th Sound and Music Computing Conference (SMC 2010). Barcelona. pp. 146–153.
Haro, M.; Xambó, A.; Fuhrmann, F.; Bogdanov, D.; Gómez, E. and Herrera, P. (2010). "The Musical Avatar: A Visualization of Musical Preferences by Means of Audio Content Description". In Proceedings of the 5th Audio Mostly Conference (AM '10). Piteå, Sweden.
Roma, G. and Xambó, A. (2008). "A Tabletop Waveform Editor for Live Performance". In Proceedings of the International Conference on New Interfaces for Musical Expression (NIME '08). Genoa, Italy.
Abstracts with Proceedings
(13 items)
Dissertation
Position & Workshop Papers
(3 items)
Xambó, A., Roma, G., Shah, P., Freeman, J., Magerko, B. (2017) "Computational Challenges of Co-creation in Collaborative Music Live Coding: An Outline". 2017 Co-Creation Workshop at the International Conference on Computational Creativity. Atlanta, GA, USA.
Xambó, A., Laney, R., Dobbyn, C., Jordà, S. (September 11, 2012). "Towards a Taxonomy for Video Analysis on Collaborative Musical Tabletops". In BCS HCI 2012 Workshop on Video Analysis Techniques for HCI. Birmingham, UK.
Xambó, A., Laney, R., Dobbyn, C., Jordà, S. (July 4, 2011). "Collaborative Music Interaction on Tabletops: An HCI Approach". In BCS HCI 2011 Workshop on When Words Fail: What can Music Interaction tell us about HCI?. Newcastle Upon Tyne.
Reports & Working Papers
(2 items)
Xambó, A. (2008). "Interfaces for Sketching Musical Compositions". Unpublished master's thesis. UPF.
Xambó, A., Martos, E. (2004). "Crossmedia Infantil: Estudi sobre les noves tecnologies i la comunicació audiovisual a l'escola infantil i primària (Report of New Technologies and Audiovisual Communication in Primary Education)" [REPORT] [Appendices and Supplements]. Unpublished report. Fundació Caixa de Sabadell with the support of UB.
Book Reviews and Endorsements
(2 items)
(July 20, 2022). Book Endorsement of "The Body in Sound, Music and Performance Studies in Audio and Sonic Arts. Edited By Linda O Keeffe, Isabel Nogueira. Focal Press / Routledge."
(Decenber 22, 2021). "Book Review: Thor Magnusson, Sonic Writing: Technologies of Material, Symbolic, and Signal Inscriptions. New York: Bloomsbury Academic, 2019. ISBN: 9781501313851. DOI: https://doi.org/10.5040/9781501313899". Organised Sound, 26:3, pp. 430–433.
Other
Posters: A selection of conference posters in PDF format.
Blog Posts: A list of more than 90 blog posts classified under the categories of AI and music, music technology/SMC, HCI, design, and research methods.