Creative Audio Programming for the Web with Tone.js: An Online Collaborative Workshop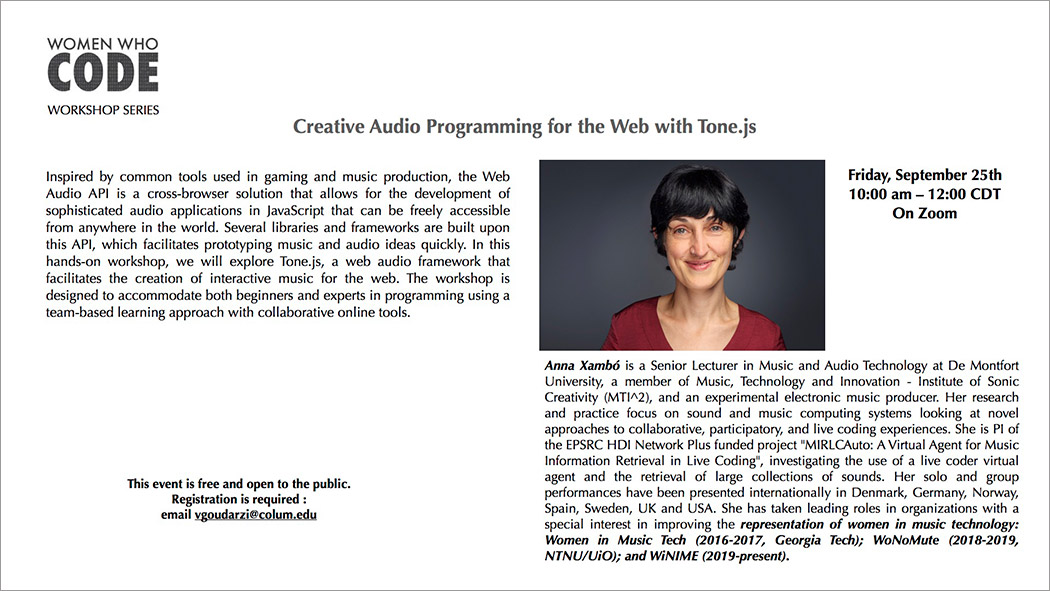 We are still in one of the most disastrous crises of our time. However, life goes on where the academic year has started with the preparations for online/blended teaching. My first teaching experience of the semester has been with the online workshop "Creative Audio Programming for the Web with Tone.js" within the "Women Who Code" workshop series, organised by Dr Visda Goudarzi, at the School of Media Arts, Columbia College Chicago.
This workshop aimed to show the potential of web audio through the framework Tone.js to both beginners and experts in programming using a team-based learning approach with collaborative online tools. We went from a quick round of introductions to experiencing the code in the browser using CodePen.io, to tinkering the code with Visual Studio Code and a local web server with the extension Live Server. We used the Zoom functionality for creating breakout rooms. We also tried the Live Share extension, yet time run too fast for the students to explore it in full capacity. Using the same tools in class was discussed in my 2019's co-authored paper "Facilitating Team-Based Programming Learning with Web Audio". We found that students preferred a consistent experience, even more in remote learning conditions.
Although we could not go as far as planned, I hope this workshop was useful to the faculty and the students who attended it. Time flew so fast! The two-fold goals of this workshop were: first, to show the potential of Tone.js / web audio, and second, to advocate about how programming in collaboration is an efficient learning method. Collaborative features are available in the same software that we already use for communication and coding. If you are interested in the potential of web audio, check the forthcoming JAES Special Issue on Web Audio as well as next year's Web Audio Conference 2021 in Barcelona.
The slides of my presentation are available here.
Acknowledgements
I am very thankful to Visda Goudarzi for the invitation to participate in the "Women Who Code" workshop series and for the coordination of the workshop. I am also grateful to the Audio Arts and Acoustics Department, Columbia College Chicago, IL, USA, for hosting the event. Finally, many thanks to all the participants of the workshop for their interest and enthusiasm throughout the whole session.